Travel Guide to Karnataka, South India
Karnataka's geography and landscape are such that it is an ideal destination for diverse and exciting historical sites and sightseeing spots. Situated amidst the Western Ghats, Deccan Plateau and Kannad Coast, Karnataka is home to various forests, beaches, waterfalls, coffee plantations, lakes and all the riches of nature.
The state also prides itself on historically significant monuments and structures that attract visitors from far and wide.
Equally culturally diverse and ancient, Karnataka has a storied past and rich heritage for travelers to explore.
Here is the list of some carefully chosen tourist spots that have something for every vacationer.
1. Bangalore – The City of Diverse Existence
Top of the list for the right reasons in the capital, Bangalore. Bangalore is India's most cosmopolitan city. It is a melting pot that houses people from different backgrounds, cultures and skills. It is the information technology hub that is home to a large number of software, hardware and telecommunications companies that provide services to customers around the world.Also called the Garden City, the main attractions in Bangalore are Bannerghatta Park, Lalbag Garden, Tipu Sultan Palace, Wonder La Theme Park, Aerospace Museum and VidhanaSoudha to name a few.The pleasant climate throughout the year makes this city a top destination for summer holidays.The best way to get to this city is either by train to Bangalore Railway Station or by plane to Bengaluru International Airport.
2. Bandipur National Park – In harmony with nature
Get as close as possible to the natural wildlife of Bandipur National Park. It is the perfect destination for animal lovers who want to immerse themselves in the sights and sounds of the forest.Do not miss the Tiger Reserve and the bird sanctuary of the national park. The richness of the fauna and flora of the reserve (park). It is a perfect choice for a day picnic. Some of the wild animals you can observe here are elephants, spotted deer, antelopes.This attraction is about 80 km from Mysore Railway Station and about 220 km from the airport.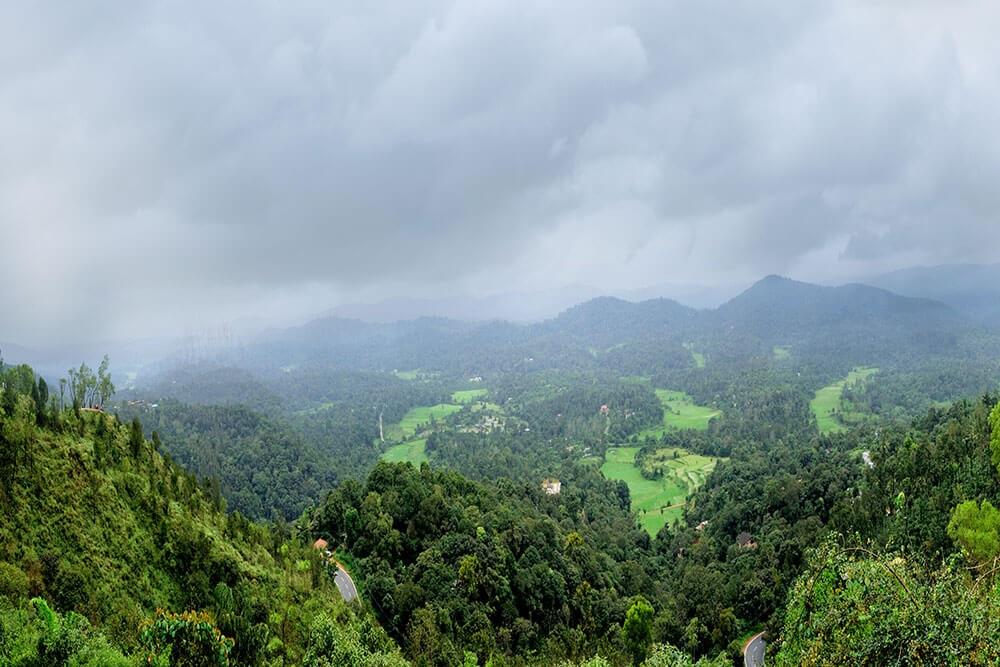 3. Coorg – Hill Town
Coorg is one of the less crowded hill stations. Its natural and lush greenery contributes to its scenic beauty. It is an ideal getaway during the summer.Coorg is blessed with aromatic coffee plantations, breathtaking waterfalls, lush green mountains and breathtaking views. Another unique attraction in Coorg is the Tibetan Monastery.Tourists have many options for hiking along coffee plantations, along the river and scenic mountain trails. There is a local market for any kind of business needs.Coorg is approximately 106 km from Mangalore Railway Station and approximately 250 km from the airport.
4. Hampi – An architectural marvel
Hampi is one of the world heritage sites declared by UNESCO. Located on the banks of Tungabhadra, the place is home to historical ruins and remnants of the Vijayanagar kingdom. The rocks and stone carvings testify to the skill and mastery of the craftsmen of ancient times. It is the ideal tourist spot for history buffs.There are 500 magnificent structures in Hampi, each with its own story.Hubli Airport is the nearest airport to Hampi, approximately 74 km away.
5. Mysore – Charming Old World City
Mysore is one of the oldest cities and the second largest in Karnataka. It was the ancient city of the kings of Mysore who ruled the state for hundreds of years until the 20th century.Mysore is one of the few cities that has managed to retain its old world charm. There are many impressive palaces, museums, temples and imposing heritage structures to admire in Mysore. The alluring Brindavan Gardens are also one of the major attractions in Mysore. Bangalore airport is about 184 km from Mysore.
6. Gokarna – Tranquility at its best
Gokarna, a small, less populated town is located in the northern Kannad district of Karnataka. It's normally on tourists' to-go list because of its peaceful ambience. Gokarna attracts tourists with its fascinating beaches and pious temples.Your trip to Gokarna will be incomplete without a visit to the famous Mahabaleshwara temple and a study of its rich history.Some of the popular but quiet beaches in Gokarna are Kudle Beach, Om Beach and Gokarna Beach. You can enjoy serene sand and exciting water sports at any of these beaches.Gokarna is about 150 km from Vasco Da Gama airport and about 60 km from Karwar railway station.
7. Belur and Halebidu – The temple towns
Belur, located on the banks of the Yagachi River, is the ancient capital of the Hoysala Empire. Due to this rich history surrounding this city, it consists of various temples with marvelous architecture and perfectly designed sculptures.The best-known temple here is the Chennakesava Temple, which has huge pillars, intricate carvings, and life-size carvings.Mangalore airport is 170 km from Belur and Hassan is about 25 km.Halebidu is located in the Hassan district of Karnataka. The main temple was built in honor of King Vishnuvardhana and Queen Shantala Devi. From the temple there is this breathtaking view of two hills on the opposite sides which appear as two bulls and a figure of Ganesh on the south side. The place was ruined by the Mughal dynasty and hence was given the name "Halebidu" which means ruined city.This place is about 6 km from Belur and 30 km from Hassan.
8. Udupi – Taste of Authentic Karnataka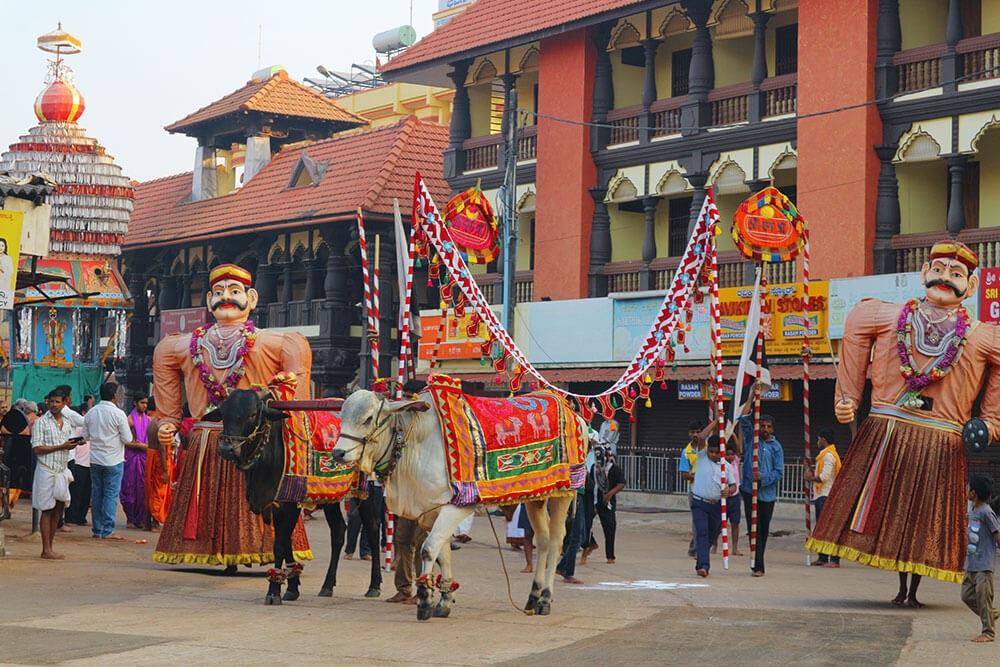 Udupi, a town near Mangalore sandwiched between the Arabian Sea and the Western Ghats is known for 2 things: temples and food. The magnificent and huge Sri Krishna temple in Udupi attracts devotees from all over the world. There is also a Shiva temple here which is said to be over 100 years old."Udupi Kitchen" has become a famous name among culinary experts for the delicious South Indian cuisine with the unique flavor of Udupi.Udupi is about 60 km from Mangalore Airport and has its own railway station, Udupi Railway Station.
9. Chitradurga Fort – A Fortified Wonder
This grand monument located in the city of Chitradurga is an archaeological marvel. This fort has immense historical value as it has existed since the reign of Chalukyas.The landscape around this fort is adorned with an imposing hill whose top overlooks a valley.This place can be accessed from Chitradurga Railway Station and Benguluru Airport which is around 200 km away.
10. Bijapur – Flavor in Royalty
If you want a taste of royalty on your Karnataka holiday, Bijapur is the place to go. Bijapur showcases the culture and life of the Islamic dynasty that existed there. You can enjoy mosques, palaces, mausoleums, etc.Some of the famous structures here are Gol Gumbaz, Bijapur Fort and Gagan Mahal.Bijapur has its own railway station and Belgaum airport is about 160 km away.You now have plenty of reasons to make Karnataka your next vacation destination. Set off on your memorable journey by crossing out the above destinations one by one. We promise you won't be disappointed.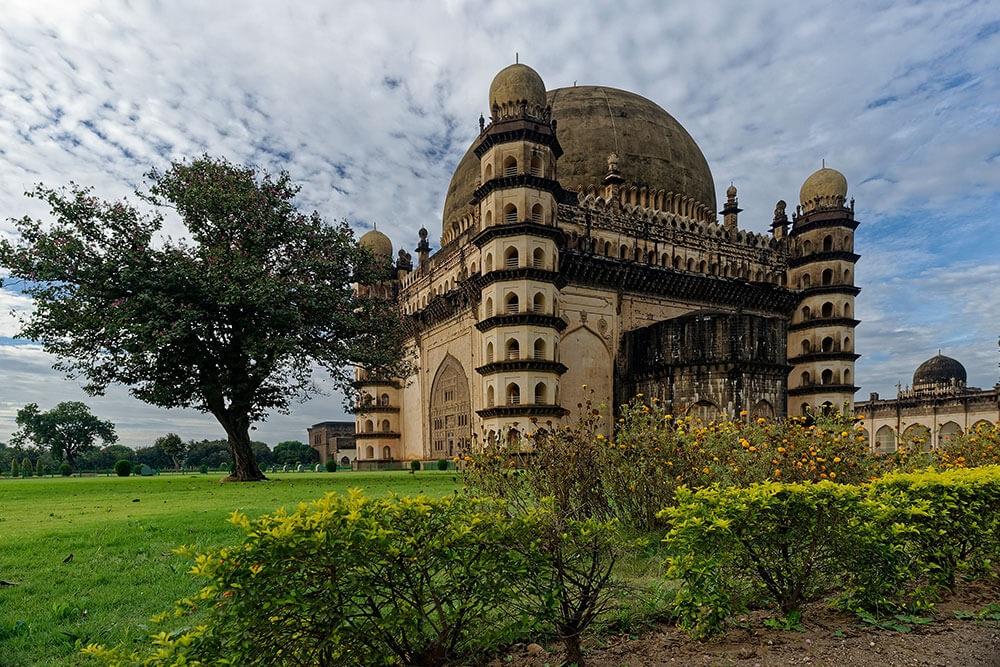 11. Chikmagalur – Endless Fun
Chikmagalur is a very serene and scenic hill station with lots of exciting things to do and see. Trekking on one of the hills of the magnificent Western Ghats is the popular attraction here. The various places of attraction in Chikmagalur are Kudremukh Wildlife Sanctuary, Mullayanagari Green Tea Farms, Hebbe Falls, Baba Budan Giri Scenic Mountains, Bhadra Wildlife Park and many more attractions.There is a wide choice of things to do in Chikmagalur. You can kayak in Chikmagalur Lake or indulge in adventurous water sports. You can go on a game drive to explore the tiger reserve at Bhadra Sanctuary or trek along the lush green tea plantations.Chikmagalur is about 4 hours drive from Bangalore.
Chikkamagaluru
1- What to do in Karnataka while travelling in South India?
Like most people who visit Karnataka, I recommend visiting the temples, places, local markets & rural villages. You can explore ancient temples, coffee plantations & nature.
2- When is the best time to visit Karnataka?
Winter (October to April) is the best time. The climate is tropical, generally hot and humid all year round. The average temperature in the plains is around 25°C in winter and 30°C in summer.
3- How to dress when you go to Karnataka (India)?
If you go to regions where the heat is felt, it is necessary to bring with you light and thin clothes, ideally in cotton. But be careful in summer and winter, it is better to wear pants or long skirts covering the knees, but also T-shirts to hide the shoulders
4- How to organize a trip to India?
Go in the right season. …
Take your time and choose your route carefully. …
Get off the beaten track and avoid the crowds. …
Contact experts on site. …
Respect culture and traditions. …
Be careful with water and food.
5- Is India dangerous?
Like everywhere else, India is a country where zero risk does not exist. The golden rule is to always find out before you go and to avoid being in risk areas, especially in the evening. Likewise, always keep a copy of your important papers, and place them in a separate suitcase or bag.
6- Where to go in India for the first time?
Start your journey with Delhi (Humayun's Mughal tomb, old fort), and continue with Agra (Taj Mahal, Agra fort, Fatehpur Sikri) then Jaipur (pink city, Amber fort). But I suggest choosing the right itinerary in India. You can visit anywhere, this country is save.